Xynovrysi – Potistika beach
This route leads to the impressive beach of Potistika. There, large rocks along the extensive coastline host colonies of rocky plant species. The shoreline of Potistika is the ideal place for exploring the seabed.
Difficulty

Medium

Length

4.6 km

Ascent

80 m

Descent

280 m

Duration

1:45

 Starting point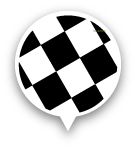 Destination
There is no water on the route. We will not find any service in Potistika, so we must make sure to carry the appropriate supplies.
The are several places where we will face dense vegetation.
The marking is incomplete and we must follow an analog or digital map.